FIFA World Cup Qatar 2022, in the face of various score reversals,how to reflect our sense of participation
During the recent #WorldCup in Qatar, which has attracted much attention, Chinese netizens laughed at themselves: "Except for the Chinese football team, everyone else has gone"
Why do you say that?
The development of the Chinese men's soccer team has never been optimistic, and this World Cup, the Chinese men's soccer team will also be absent as scheduled. Although they will feel sorry, netizens also said that they may have gotten used to it. However, some interesting things happened in the World Cup. : "Except for the Chinese men's football team, everything else went to China, and the Chinese referees even went"
It is reported that the venue of the Qatar event, that is, the Lusail Stadium, was built by China Railway Construction International Group, and there are many New Year's energy vehicles in many venues also come from China.
Before the opening of the World Cup, products made in Yiwu, China have entered the World Cup scene in advance. Many soccers, jerseys, flags, and star stands are made in Yiwu, China. There are also countless made in China at the event site, and there are even giant pandas.
In this World Cup in Qatar, the participation of the Chinese people is very high, and even Chinese referees also appeared on the scene of the World Cup.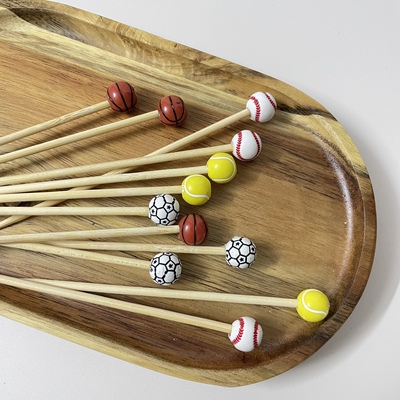 So as a supplier of food decoration, of course, we have to actively show our sense of participation. Recently, for this global game, we launched the food bamboo picks for soccer. And for our old customers, in order to celebrate this global event, we also offer a 30% discount.
Everyone will wonder how soccer can be made into bamboo picks.
Of course, soccer cannot be made into bamboo sticks, but our idea is very novel, we add soccer elements to bamboo skewers. Not only soccer but also tennis bamboo picks, volleyball bamboo picks, basketball bamboo picks, rugby bamboo skewers, and so on.Isn't it amazing?
In addition, we have also launched many new products, such as World Cup-themed cake inserts, soccer element lunch box stickers, and soccer logo disposable wooden cutelries. Oh, also have the cocktail stirrer with soccer logo
The Chinese people like to be lively. Although the national soccer team does not enter the field, our enthusiasm will not be absent, and our soccer appetizer picks, our fruit sandwich picks,our cocktail stirrers,still have national Flag Wooden Toothpicks for Hamburger. These will not be absent. We will still cheer for the World Cup. Come on, China National Football Team, come on for the World Cup!